Lumatek Zeus 600w pro
Super High Efficiency Full Spectrum LED Grow Light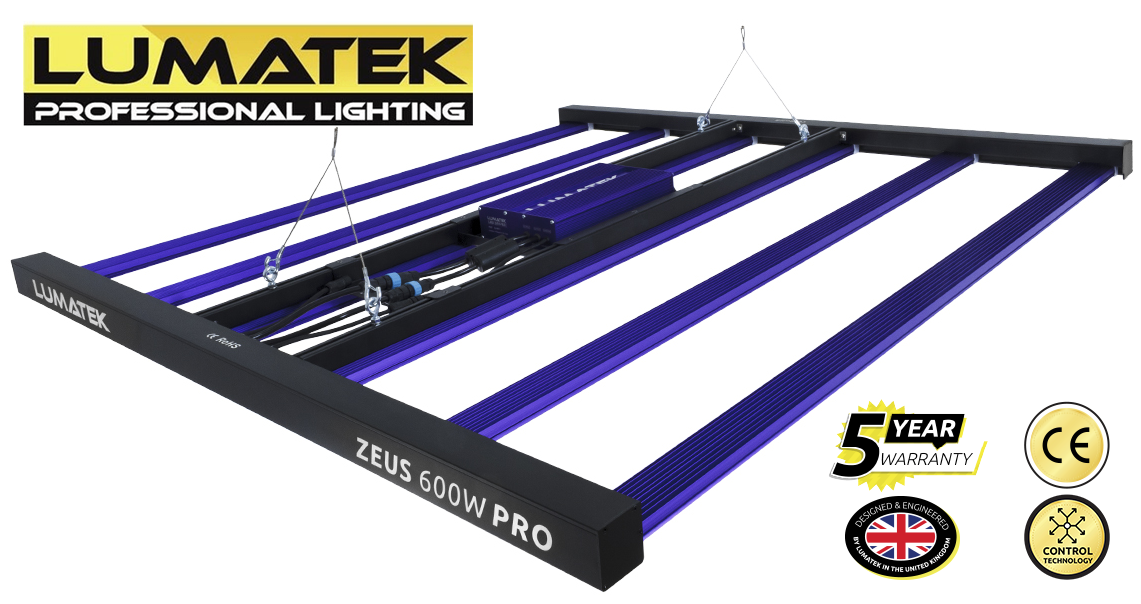 With the advances in technology and fixture performance, high quality LED horticultural lighting is now a credible option offering significant return on investment to cultivators. Lumatek full spectrum horticultural LED solutions balance light quality (spectra) with light quantity (intensity and duration) sufficient to provide single-source lighting for entire grow cycle from vegetative through flowering period.
The incredible Lumatek Zeus 600W Pro LED is a linear multi-light bar fixture producing a massive PPF of 1620 µmol/s and a Photon Efficacy (fixture efficiency) of 2.7 µmol/J. A giant leap forward in led technology.
The array of LEDs create a uniform spread of light at short distance to the crop enabling single source grow lighting for multi-layer cultivation systems, single benches in low rooms and grow tents.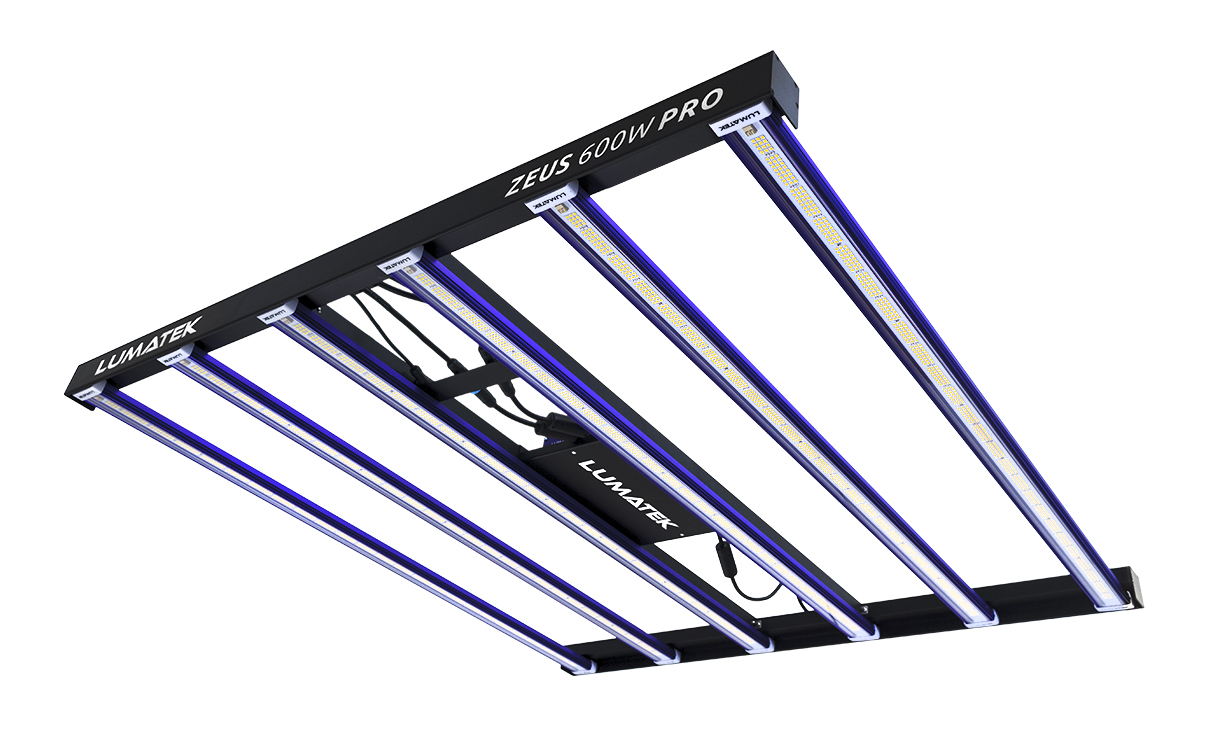 The Zeus is built using high quality Lumatek drivers and top bin LEDs from LUMLED and Osram generating a full-spectrum light source ideal for veg and flowering cycles.
For different cultivars, propagation and vegetative growth periods the Zeus may be dimmed without losing efficiency. The high efficiency and low powered LED configuration with six LED bars reduces the temperature of the LEDs increasing the output and improving light maintenance.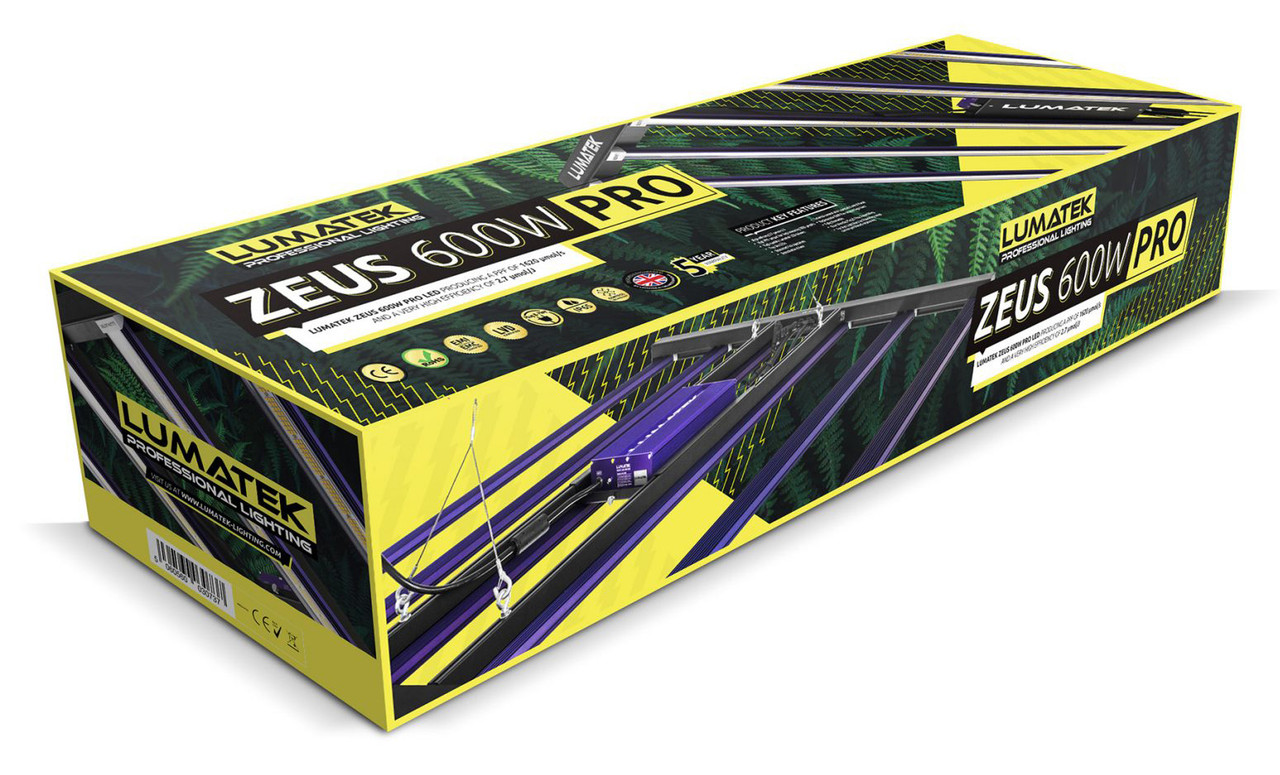 The Zeus fixture can also be externally controlled with a Lumatek digital lighting controller featuring automated dimming, temperature safety control, Sunrise & Sunset Mode for up to 100 fixtures per controller.

Less Energy. Bigger Yields.
Lumatek LED solutions demonstrate the potential to save 40% on electricity and studies indicate that LED-lit canopies can generate more yield per kWh.
Increased Resin & Terpene Production
Initial studies indicate growers using LED lighting may experience yield increases and changes in cannabinoid and terpene profiles, leading to more consistent medicinal product profiles from harvest to harvest.
Lumatek LEDs are rated for 60,000 hours use supported by a market leading 5 Year warranty.
Reduced HVAC
Lumatek LEDs are highly efficient and less wattage equals less heat into the space, allowing for potentially lower HVAC loads and operating expense.
Lumatek LED drivers are intelligent and feature full circuit protection including over/under voltage, short circuit and over temperature protection. Lumatek Zeus LED drivers also feature auto-power increase/decrease to match the amount of light bars connected to fixture. All Lumatek LED fixtures are CE certified LVD and EMC compliant.
Precise Light Intensity
Lumatek LEDs can be dimmed to adjust PPF level to suit crop and growth stage without changing spectral power distribution or losing efficiency.



Developed to meet Professional Standards & main requirements of the grower
The Lumatek Zeus Pro is quite simply the best grow light money can buy. End of story.
Lumatek use the latest electronic components to improve performance & efficiency to reduce the cost of high-end professional equipment for the end user.
Lumatek have a proven reputation for reliability and performance. This fantastic kit is everything you need for an affordable professional grow.

Technical Specifications
Efficacy: 2.7 µmol/J
PPF: 1620 µmol/s
Input Voltage: 200-240V
Power Consumption: 600W
Footprint: 1.5x1.5m
Waterproof: IP65
Lifetime: 60 000 Hrs
Light Distribution: 120°
Light Source: Osram & LUMLED Diodes
Dimmable: OFF-25%-50%-75%-100% with 0-10V Light Dimmer (Included)
External Control: With Lumatek Digital Panel
Weight: 13.5 Kg
Dimensions: 1091 x 1182.4 x 51.9 mm
Spectrum: Full Spectrum F
BTU (With Driver Attached): 2115 BTUs/h
BTU (With Driver Remote): 2047 BTUs/h
Items Included

- 6 x Lumatek 100W Full-Spectrum Magnet Light Bars
- 1 x Lumatek 600W Driver with Connecting Cables
- 1 x LED Structure with Connecting Cables
- 1 x 0-10V Light Dimmer + Velcro
- 2 x Metal Cable Hangers
- 1 x Manual